Swipe to the left
Clemson On Top: National Champions!!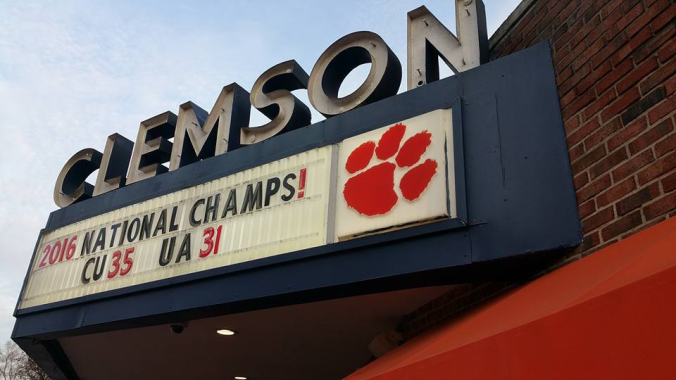 Have you ever heard a roar that reverberated so loudly a whole nation, the whole world heard it? I have. How about a roar that caused rolling tides to cease? I have. On January 9, 2017 the nation heard the roar of the Clemson Tiger Football team bringing a close to the rolling tide in Tampa as Clemson and Alabama faced each other at the Bay for the NCAA 2016-2017 CFP National Championship game. After 35 years Clemson Football brought home a National Championship and the Clemson Family erupted with joy and pride to see their boys fight through the very end and bring home the trophy.
President Julie Ibrahim had a few thoughts after the game:
"It has now been about 36 hours since the Clemson University Football team and their head coach, Dabo Swinney, won the 2016 CFP National Championship competition. I woke up very early this morning feeling excitement and energy infusing my spirit that is a direct result of this spectacular achievement. I keep hearing the words 'celebrate', over and over again in my mind. Take time to celebrate and savor their success."



Photo credit: USA Today



And that's exactly what Clemson did, they celebrated! On Saturday, January 14, 2017 the town and people from all over the nation gathered to give the Clemson Tiger football team a heroes' welcome in a hometown parade. The parade went through downtown Clemson and ended in the West end zone where Death Valley held 65,000 current students, alumni, men, women, children- the Clemson family.


President Julie Ibrahim continues:




"So, let's take time to celebrate, to appreciate, to bask in the glory that this team has made for us. We have been loyal fans through thick and thin, even when we aren't winning every game and checking off every goal. This is more than a sport, it is more than a game, it is life itself. It is a way of life that shows us if we know what we want we can set goals and achieve those goals. We can then bask in the glory of that achievement for a while before we go into the future and start over again."

This is a special time in Clemson history. Julie Ibrahim and the Tiger Sports Shop could not be more proud of the Clemson Tigers as a whole and celebrate with the Clemson family. Clemson has never been more alive and we have the joy and privilege of serving the Clemson family, thank you!