Swipe to the left
Spring Game Sale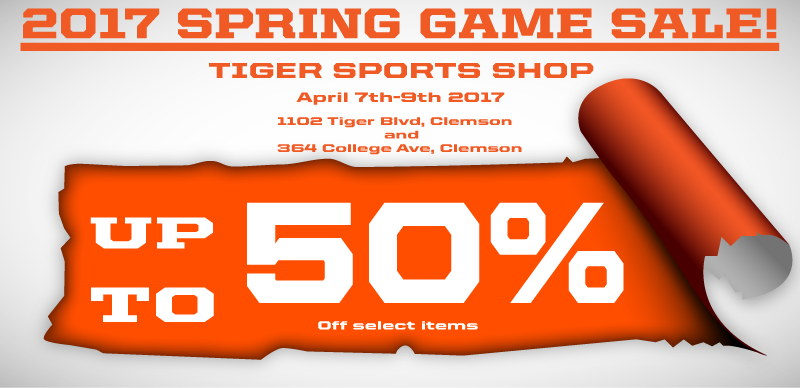 This weekend's Spring Game gives everyone the opportunity to check out the 2017 football team as they continue to prepare for the upcoming season. We're kicking off the action packed weekend with a big sale! Starting Friday, April 7th, select styles for brands like BYOG, Cutter & Buck, and Nike will be up to 50% off! Stop by one of our two convenient locations at 1102 Tiger Blvd and 364 College Ave throughout the weekend to get some Clemson gear at a great deal or grab some new gear for the upcoming 2017 season!

The Clemson football team is coming off a historic year where they won the 2016 National Championship. We get an opportunity this Saturday to see how the team has reloaded key positions for the upcoming season. Come out to see your 2017 Clemson Tigers this weekend as they begin their journey back to the College Football Playoff for the third straight year!
The game kicks off at 2:30pm on Saturday, April 8th and there's free admission so the whole family can come! Along with the Spring Game, there's plenty of other activities like baseball games, a men's golf invitational, and tennis matches. The Clemson Baseball team is currently ranked 4th in the nation and will be playing a 3-game home series against Virginia Tech so come out to support the Tigers as they seek to continue their win streak! You can find the full weekend schedule here.