Swipe to the left
​The Tiger Sports Shop Ranked In Top 9!
The ballots are in and the rankings have been given. The Tiger Sports Shop was ranked one of the top 9 sporting goods store in South Carolina by BestThingsSC.com. The store was the only one in the Clemson area to be ranked in the list alongside another local favorite Grady's Great Outdoors.

The site had the following to say about The Tiger Sports Shop in the rankings article "It's not much surprise that Clemson, South Carolina, plays home to one of the top sports shops in the state, given their football fandom and National Championship title. For the most part, you'll find a heaping helping of sports apparel, such as t-shirts, hats, and jerseys, but they also have Clemson-branded balls, rain gear, and other recreational items." You can read the full article here: https://bestthingssc.com/sporting-goods-stores/
We are so grateful for all who patronize our store at either the Highway or Downtown location. Without your support we would not be able to supply the selection that we offer and our goal is always to continue providing exceptional quality items along with friendly and helpful staff. So stop by one of our locations or shop our website! We would be happy to help you find what it is you need, no matter if it's off season, just to look around, or on a game-day, we have Everything Clemson For The Clemson Fan!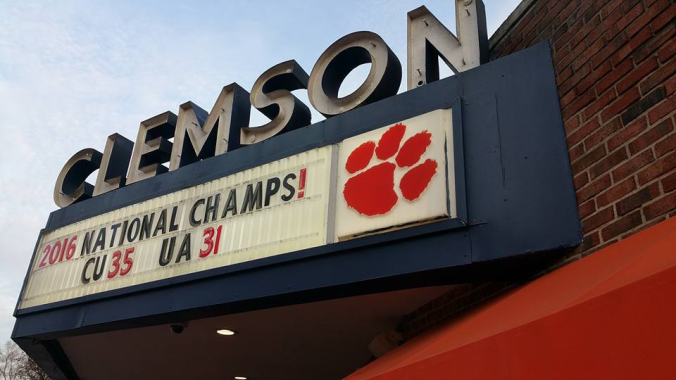 Pictured above is the outside marquee for our Downtown location after the big Clemson win at the 2016 National Championship!