Our Clemson Pride and Passion Run Deep
Great teams are born from true passion, as are great fans. It's no surprise, then, that Clemson's largest Clemson Tiger sportswear and gifts retailer — The Tiger Sports Shop — grew from Coach Ibrahim's passion for Clemson soccer. In 1974, Coach I. M. Ibrahim invested his savings into a small store downtown, where he sold Adidas shoes. With the help of Ibrahim's wife, Julie, our little store became one of the most successful licensed Clemson apparel and gift shops in the region. We went on to outgrow our location twice before settling into our current building, the historic Clemson Theatre, in 1984. That still wasn't enough room for our loyal customers, so we opened another location "The Athletic Department", now known as The Tiger Sports Shop which welcomes fans on their way into Clemson.
Coach Ibrahim may have been a Clemson legend, but for his players, fans, and customers, he was always just an email or phone call away. Naturally, he built his family business the same way. When you call our shop with questions, you'll talk to us, not a help line. Everything we do is personal. National retailers could not care less if you buy Clemson stuff today and South Carolina stuff tomorrow. But it's different in our store, where everything we sell has been personally selected for the fans who share our commitment to Clemson University, the Clemson community, and the Clemson family.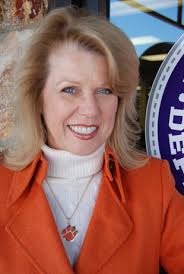 Julie Ibrahim
True Tiger fans aren't like other fans. We're a family, bound together by pride, tradition, and an intense love of Clemson orange. We built The Tiger Sports Shop on shared passion. Four decades later, our fellow fans are still the reason we exist. "Coach I's philosophy was simple: to provide a superior product at a reasonable price. Although Coach I is no longer with us, his wife Julie's leadership continues to ensure that his indomitable team spirit lives on in everything we do.
With two store locations, a full online, mobile optimized, shopping experience with your selections shipped straight from Clemson, and an emphasis on accommodating customer requests, we're here to serve you. We cheer with you. We celebrate with you. We trade stories with you. We revel in CU's academic and sports success with you. We bleed orange with you. We care about this community as deeply as you do. Together, we're the orange lifeblood of Clemson.