PASSION IS LEGENDARY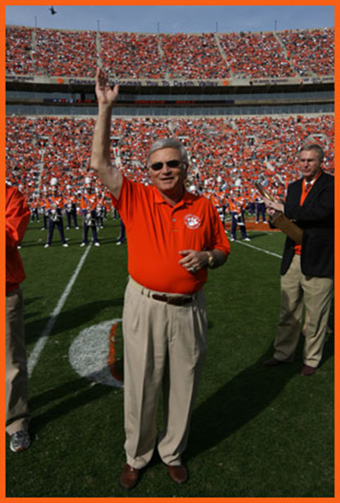 Coach I. M. Ibrahim, Founder
Clemson University Soccer Program 1967
The Tiger Sports Shop 1974
"Anything he did, he wanted to be the best."
– Kerry Capps, retired Clemson sportswriter
Coach Ibrahim (aka "Ibe" to those who knew him well) is a legend in Clemson. With two National Soccer Championships (1984 and 1987) and an armful of ACC Titles to his name, it's no wonder. He earned his legendary reputation the way he earned all of his success: a refusal to settle for anything less than the very best.
Born in Palestine, Ibrahim came to the U.S. to study in 1960 on a Rotary Foundation Scholarship. After a brief stint coaching soccer at Shorter College, Ibrahim graduated and moved to Clemson in 1964 to obtain his M.S. and Ph.D. in chemistry. In no time at all, he completed his degrees and worked briefly for Clemson University. In 1967, he left chemistry and convinced Frank Howard, Clemson's then athletic director and head football coach, to found a varsity soccer program. Ibrahim's passion for the sport was unrivaled—so much so that he was willing to coach the entire first year without pay. Just six years later, "Coach I" had Clemson ranked in the national top twenty. From there, he went on to become a master coach and recruiter, building teams that won 11 ACC titles and two of Clemson's four national championship titles during his tenure. He retired in 1994 as one of the top five winningest coaches in the nation.
Of course, the Ibrahim legend doesn't end there. In 1974—right in the middle of his thriving soccer career—Coach also decided to open a specialty athletic shoe shop in downtown Clemson selling running, soccer, and track shoes. It evolved over time into two large stores in Clemson that carry "Everything Clemson for the Clemson Fan." The store's success was a testament to his dedication, hard work, drive, and talent. Today, The Tiger Sports Shop has been a Clemson tradition for over 40 years.
What made "Ibe" a great coach is what also made him a great businessman: passion. Coach Ibrahim truly loved soccer—and he loved to share and teach the game with others. "They call him the Father of Clemson Soccer," said Paul Rutenis, team captain and defender on both national championship teams. "But I say he was a father to many Clemson soccer players!"
Coach Ibrahim passed away in 2008 leaving a legacy that continues to this day. His gravestone reads "Here lies a great man whose passions touched all those he knew and loved." Today, his wife Julie Ibrahim and The Tiger Sports Shop team are proud to carry on his legacy of success - honoring the sports, the fans, and the Clemson University he so deeply cherished.