JOIN OUR LOYALTY PROGRAM TO EARN TIGER REWARDS ON WHAT YOU SPEND!
At The Tiger Sports Shop we want to make sure to give back to our most loyal customers!
The chart below shows how to earn points that translate into "Tiger Rewards" on future purchases.
Enter "+" and your country code before your number.
+1 (USA & Canada) Ex: +15551234567
You will be prompted to enter a verification code to complete the sign up.
Enter your 10-digit phone number.
Ex: 5551234567.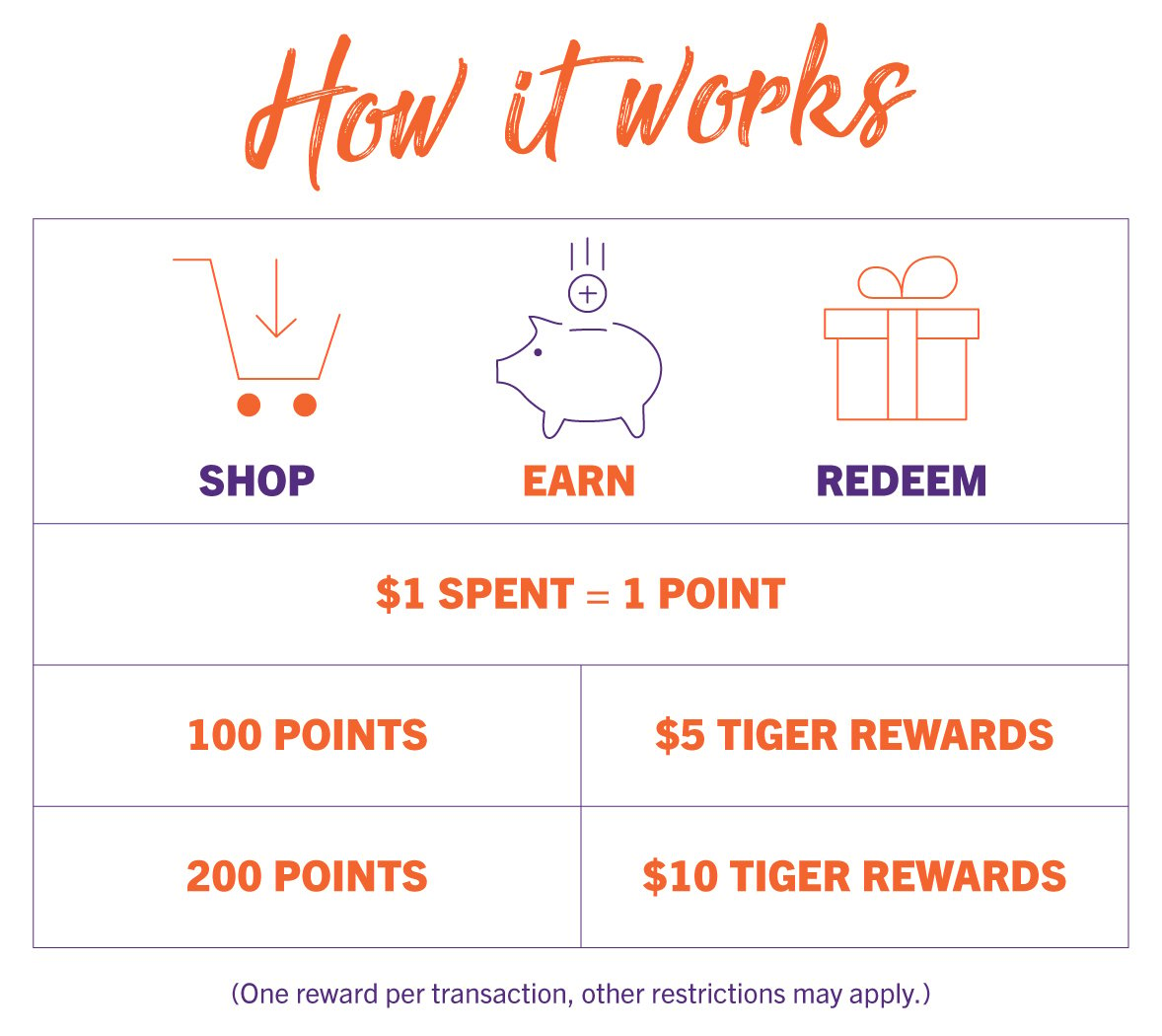 or TEXT "TIGERSPORTS" TO 87573 TO OPT IN!
TIGER REWARDS Loyalty Points are our way of saying "Thank You!" As a loyal customer of The Tiger Sports Shop, you earn one point for every dollar you spend. The accrued points are applied as a discount on your next eligible purchase. Rewards can be applied in the online Shopping Bag or during in-store Checkout.
HOW CAN I USE MY LOYALTY POINTS?
Shopping In-Store?
During your next store visit, simply tell the sales associate you have a TIGER REWARDS account. They can access your account and will apply any reward during the checkout process.
Shopping Online?
While viewing your shopping bag online, there will be a drop down that says, "Loyalty Points." After you enter your mobile phone number, you can view your point total and choose to apply any available reward. Purchases made thru the "Guest Checkout" option are not eligible to accrue nor redeem points.
DO MY POINTS AND REWARDS EXPIRE?
Yes, your points and rewards will expire after two years of inactivity.
Tiger Rewards loyalty points cannot be earned on Gift Card purchases.

Tiger Rewards loyalty points are not valid on tax nor shipping costs.

Tiger Rewards loyalty points have no cash value and cannot be redeemed for cash.

Tiger Rewards loyalty points earned on an order that is returned will be deducted from your account.

Tiger Rewards loyalty points will be automatically credited to your account after every eligible

purchase.

Tiger Rewards loyalty points and the benefits associated with the program are subject to change at

our sole discretion.
If you have any questions about our TIGER REWARDS Loyalty Program, please feel free to contact us via email at [email protected] or by telephone at 800.933.7297.